A pretty headache problem in Windows 10 is one where affected users receive an error message that states "The handle is invalid" when they try to back up system on their Windows 10 computer.
Mostly, this problem occurs after a significant software change gone wrong, which is most commonly a Windows update that did not install correctly or which was not entirely installed. In addition, this problem is also notoriously popular for being brought on by faulty Windows updates that bring the problem on in the first place even when they are correctly and fully installed. Another main cause is that some system files got corrupted or damaged.
But don't panic, there are different methods that you can use to fix this error.
Solutions to 'The Handle Is Invalid' Error When Backing Up System
Method 1. Perform a Clean Boot
A clean boot eliminates the optional features and loads only those files and programs that are absolutely required by the operating system. Sometimes, the backup error the handle is invalid Windows 7 may be caused by another program, you can try to back up the system in a clean boot.
Step 1: Press Windows key and R key together to open Run dialog, then type msconfig.exe in the box and click OK or hit Enter to continue.
Step 2: Next, go to the General tab and choose the Selective startup option and uncheck the Load startup items to continue.
Step 3: Go to the Service tab and choose Hide all Microsoft services option which is at the bottom of the window. Then click Disable all and click OK to continue.
Step 4: Now you will receive a warning message which requires you to restart your computer and you just need to click Restart button to continue. After the computer is rebooted, you can perform the Windows backup tool again to check whether the invalid Windows handle error is solved.
Method 2. Try to Check Disk
If you encounter the backup error 0x80070578 when wanting to create a system image by using the Windows snap-in backup tool, you can try to check whether there is a bad sector of your hard drive. And we will show you how to check disk step by step.
Step 1: Click Start button of Windows 7 and type cmd in the search box, then right-click it to choose Run as administrator to go on.
Step 2: Type the command chkdsk c: /r in the command line window and hit Enter to continue.
Step 3: You will receive a message which tells you that the Chkdsk cannot run because the volume is in use by another process. Would you like to schedule this volume to be checked the next time the system restarts? Thus you need to type Y to continue.
Step 4: Next, close the command line window and restart your computer. When the above steps are completed, you can try to check whether the issue the handle is invalid is solved when you are backing up system with the Windows snap-in tool.
Method 3. Use Another Professional Backup Software
When the Windows snap-in backup tool fails to work, you can use a piece of third-party backup software to assist you in creating a backup image.
With its various powerful features, MiniTool ShadowMaker can help to back up disks and partitions, files and folders, Windows operating system.
Step 1: Install the software, launch it and click Keep Trail to continue. In the popup window, choose Connect in This Computer to enter its main interface.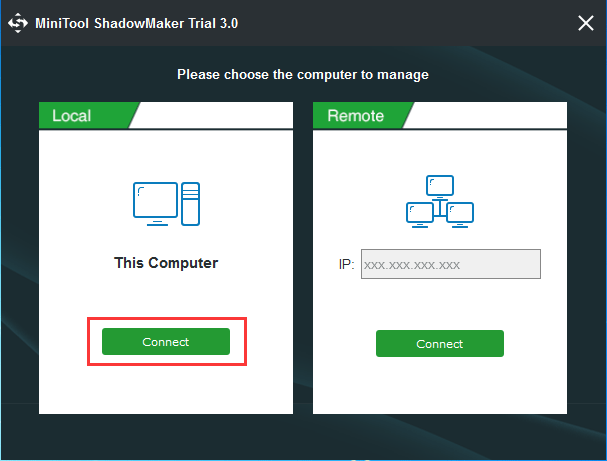 Step 2: Next, MiniTool ShadowMaker will remind you to back up immediately if there is no backup image on your computer. You just need to click SET UP BACKUP to continue. This program will choose the system related partitions by default.
In addition, after entering its main interface, you can go to the Backup tab and choose what you want to back up and decide where you want to save the backup image by clicking Source tab and Destination tab to go on.
Step 3: After successfully choosing the backup source and destination, you can click Back up Nowbutton to perform the backup task immediately. Or you can choose Back up Later to delay the backup task.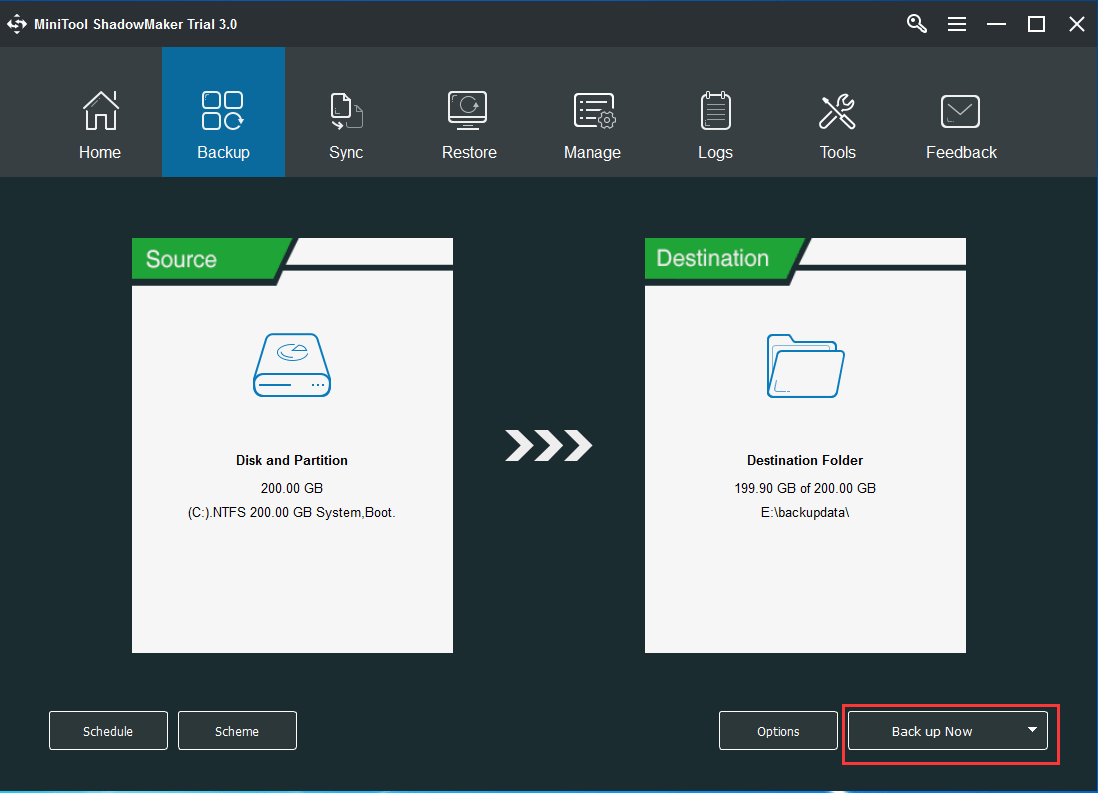 Step 4: After having successfully created the backup image, you had better go to the Tools tab to create a bootable disc or USB drive since you can use it to boot your computer so as to perform some recovery solutions when some accidents happen.
Now, you can see that it is pretty easy to create a backup image with MiniTool ShadowMaker. Thus, if you encounter the issue the handle is invalid with error code 0x80070578 when you want to create a backup image with Windows snap-in backup tool, you can use MiniTool ShadowMaker to have a try.